360 degree appraisal allows you to gather anonymised feedback from your work colleagues so that you can see yourself as others see you. 360 degree feedback can be a valuable tool when used prior to finalising the design of a development programme, as a self-awareness tool within a coaching programme or as an evaluation tool following completion of a management development activity.
I work in partnership with Appraisal360 to provide a fully supported 360 degree feedback service. This enables me to offer either an simple and cost effective off the shelf tool or a totally bespoke service to meet your needs.
The report produced provides rich insights which: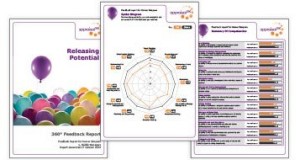 prompt self evaluation
provide feedback on competence and behaviour
facilitate peer and upward feedback in a non-threatening way
identify strengths and areas for development.
Click here for more information about Appraisal360 reports.
We provide a 360 Review Meeting for each individual, in order to help them to review and interpret their feedback report and to agree a Personal Development Plan. Alternatively we can provide training for your managers in the skills required to support feedback effectively.
Read my article on Delivering Challenging Feedback.